Nowhere but here….
Howard University Social Work graduates become architects of liberating structures in culturally diverse families and communities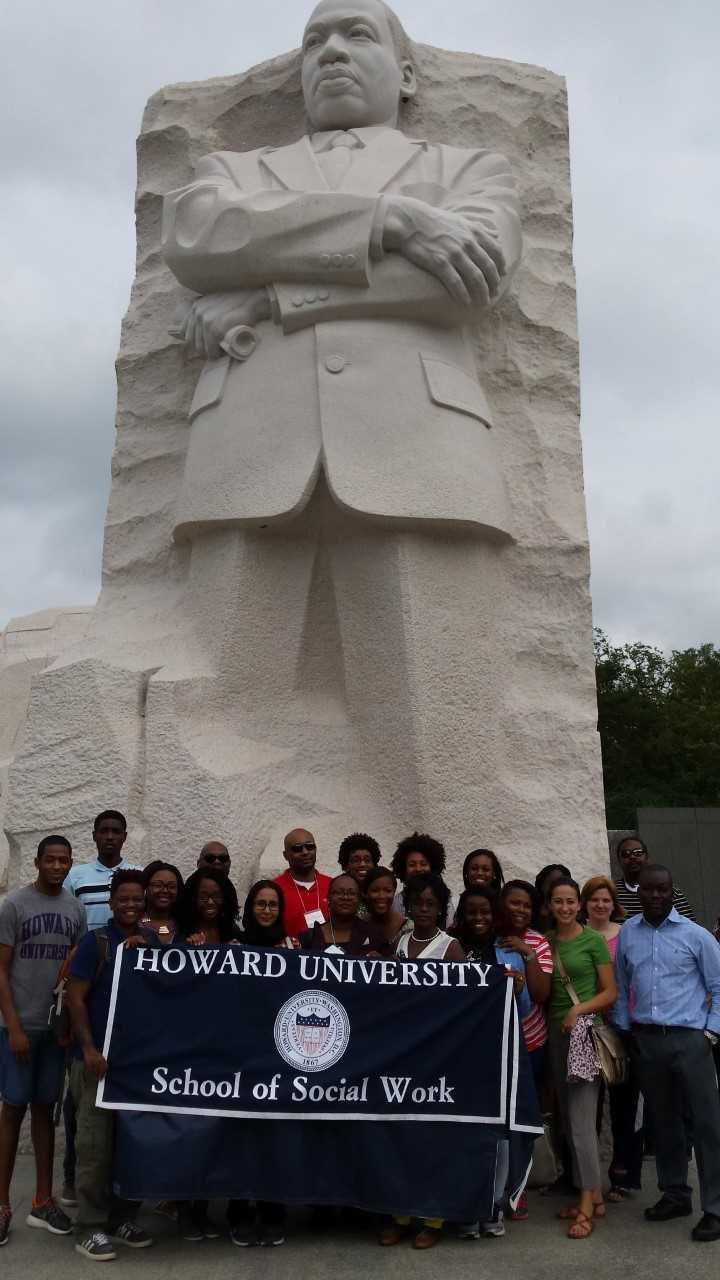 The mission of Howard University School of Social Work is to prepare graduates for advanced professional practice at local, national and international levels for the solution of human problems and to become leaders in their communities: and to prepare doctoral graduates for research, the professoriate, and leadership in the global community.  We are dedicated to the pursuit of knowledge through discovery, research, partnerships, innovative process and other scholarly educational endeavors of the faculty, staff, students and alumni.  Graduates are expected to become architects of liberating structures in culturally diverse families and communities.   by The Black Perspective – our six guiding principles, affirmation, strengths, diversity, vivification, social justice, and internationalization---our students engage in critical thinking that uses these principles along with other theories including intersectionality, critical race theory, symbolic interaction, and more.  Leadership in advocating for the needs of individuals, families and communities is our hallmark.   We offer the MSW program, the MSW/PhD program (under review), the PhD program, the MSW/MDiv program, the MSW/MBA program, the MSW/MPH program, and the newly added Online MSW program. Visit socialwork.howard.edu for more information of the school and our MSW programs.
The Ph.D. Program in social work is research oriented and interdisciplinary in nature. It prepares graduates for leadership positions as academicians and researchers, educators, policy makers and senior level administrators. Specialization areas include Family and Community, Health and Mental Health, International Development as well as other student and faculty agreed upon areas.  Our program provides a focused and highly personalized student learning process with a knowledgeable and caring faculty.  Students are challenged to grow as scholars and encouraged to use their experience as social workers to be exceptional in their scientific enquiry and examination. Students attend important functions with faculty and often present at professional conferences. Quality mentorship is a critically important part of our program. We are especially proud of our alumni and the contributions that they are making both nationally and globally. They are leaders in the field and staunch advocates for social justice and the eradication of injustice in all of its forms. 
Doctoral education at Howard University began in the 1970s.  We are the first HBCU to have a doctoral program in social work. Originally, we offered the DSW degree (research doctorate) and in the late 1990s began offering the PHD degree under the auspices of the Graduate School.  The first DSW was offered in May, 1980 and the first PhD in May, 1997.
Recent HUSSW Dissertation Topics
2014
"The Internationalization of Social Work Education:  A Focus on Attitudes, Transformational Leadership, and Institutionalization" ( L. Acquaye)
"Unseen, Unheard and Nearly Invisible:  An Examination of Sexual Orientation and Spirituality's Impact on Psychological Well-being among Middle Age and Older Black Men Living with HIV/AIDS" (T. Brown)
"Zanzibari Women in Local Social Entrepreneurship:  A Participatory Social Learning Approach to Community Sustainability" (R. Connor)
"The Fear of Being Judged:  African American Gay Men and Intimate Partner Violence.  A Qualitative Study" (D. Frierson)
"Intimate Partner Violence with the Marine Corps:  Examining the Socio-Demographic Risk Factors of Active Duty Marine Perpetrators and Types of Abuse" (P. Hubbert)
"I Couldn't Save Myself:  Lived Experiences of Female Street Children in Bangladesh" (E. Kaiser)
"Intimate Partner Violence and Probable Traumatic Brain Injury:  Manifestations in the Lives of Abused Women" (A. McFadgion)
2015
"African American Adolescents' Attitudes and Beliefs on Trauma and Healing:  Implications for Mental Health Service Use" (Z. Henderson)
"The Examination of Race and Title IV-E Training on Organizational Commitment to Public Child Welfare" (J. Pryce)
"Lives Linked Through Heart, Mind, and Hands: African American Professional and Managerial Women's Journeys through Caregiving for Elderly Parents: A Phenomenological Study" (C. Thorne)
"Assessing Attributions for Poverty-Welfare Reliance Between TANF Service Recipients and Social Welfare Service Workers: Implications for Co-cultural Consensus Building & Advocacy" (B. Wadley-Young)
2016
"The Impact of Psychosocial Determinants on the Nonmedical Use of Prescription Medication Among Women with History of Intimate Partner Violence" (T. Carter)
"Exploring the Multiple Determinants of Father Involvement among Non-Resident African American Fathers: A Mixed Methods Approach" (B. Lemmons)
"Health-E Connections: Examining E-Health Utilization among African Americans" (O. Massey)
"Client-Inflicted Workplace Violence, Burnout, Job Satisfaction, and Turnover Intention: A Comparative Analysis Between Institution-Based and Home-Based Direct Care Paraprofessionals" (S. McDowell-Porter)
"Don't Just Give Me That Old Time Religion: The Intersection of Religion and Mental Well-Being Amongst African American Women, A Qualitative Study" (C. Wiley)
2017
"An Exploration of the Well-Being Experiences of Igbo Immigrants Through the Investigation of Their Adaptation and Coping Strategies" (C. Chukwuani)
"'Makes It Seem More Real': A Qualitative Exploration of the Sexual Health of African American Adolescents with HIV-Positive Mothers  (T. Howard)
"Examining Gender-Based Differences in Mental Health Among African-American Youth Living in Public Housing" (E. Whitaker)
"Attitudes of Arab Americans Towards Persons with Developmental Disabilities" (T. Zidan)
Related Professions:
ADMISSION REQUIREMENTS
Students should consult the Department and the Graduate School of Arts and Sciences (GSAS) for other requirements not indicated in this document. Official information for degree requirements is given in the Graduate Bulletin and the publication "GSAS - Rules and Regulations for the Pursuit of Academic Degrees"
A completed application should include the following:
A non-refundable application fee made payable to: Treasurer, Howard University (Certified check or money order only).
Official transcripts (undergraduate and graduate) must be submitted directly from the Registrar's Office from ALL colleges and universities attended.
Results of your Graduate Record Examination (GRE) General Test Scores.
Scores from the Test of English as a Foreign Language (TOEFL), if you are an international student.
A curriculum vitae of your education and professional experiences. Please organize your curriculum vitae so that the following items can be conveniently determined: education, professional experiences, scholarly writings/presentations, and community services.
Three (3) written letters of recommendation -- NOTE: References must include at least one graduate professor, and one professional supervisor.
Essay. Please prepare a statement reflecting the following: (a) your philosophy of social welfare/social work; (b) your personal, professional, and educational goals; and (c) your research interests. Please include information on how you intend to relate your professional and educational experiences to your future goals, and how you think this program will assist you (3 to 5 double spaced type-written pages).
Information regarding your plans for financial support, as well as how you plan to finance your education. If you want to be considered for financial aid, please complete the Financial Aid Form for evaluation by the Educational Testing Service at Princeton, New Jersey. Please adhere to deadlines on the [FAF]. Financial Aid is available through the University on the basis of need and academic performance in the form of federally supported loans, tuition scholarships, and part-time employment. The School of Social Work offers a limited number of graduate assistantships, partial-tuition scholarships, and tuition grants on the basis of need and academic performance.
Other relevant material you would like to submit as evidence of your ability to perform in the program including copies of published papers.
The requests for admission far exceed the number of students who can be accommodated by the Program.  
You are encouraged to begin the application process early. The application review begins in December and some of the items, such as transcripts and letters of reference may require additional time. There are a limited number of University fellowships.  The applicant process for this funding is very competitive.  The deadline for receipt of all application materials if you are requesting University fellowships is December 1.  If you do not wish to be considered for a University fellowship, the deadline for receipt of all application material is February 15th. From time to time you should check with the doctoral program office at 202-806-7306 regarding the status of your file. The Doctoral Committee does not review incomplete files.
DEGREE REQUIREMENTS
Ph.D. in Social Work Degree Requirements
Candidates must complete 48 semester credit hours of course work, including 3 hours for the dissertation. A cumulative average of B is required for graduation. Additionally, students must earn a grade of B or better in all core courses and special-interest area courses. A one-year period of full-time residency (9 credits per semester) is required of all students.
The core curriculum consists of five pro-seminars. One course in the history and philosophy of social welfare, three theory courses (Individual Theory; Small Group Theory, Community and Organization Theory), a course in Social Work Education, and four courses in advanced social research methods and statistics. All students are required to take the above specified courses as the basis for their study in one of the special interest areas.
Students are expected to take 12 credits in their chosen special interest area. The specific interest area courses are decided upon by the student, academic advisor and the Director of the Ph.D. Program. These courses may be taken outside of the School of Social Work, in other schools and colleges of Howard University or in one of the Consortium of Universities in Washington, D.C. Six credits of elective courses are required. 
The qualifying examination is taken at the end of the first year of study, after completion of 18 credit hours. The examination covers the course content in the first-year core courses. Emphasis is placed on the ability to synthesize knowledge. The student must pass the examination in order to continue in the program.
The comprehensive examination is taken upon the completion of all the core courses and special interest area courses. The candidate is required to present and orally defend the proposal for and subsequently a completed dissertation.
RESIDENCE REQUIREMENTS
Students in the Ph.D. program are required to spend at least four semesters in full-time residence, two of which must be consecutive.
CAUTION TO PROSPECTIVE STUDENTS
The Board of Trustees of Howard University on September 24, 1983, adopted the following policy statement regarding applications for admission: "Applicants seeking admission to Howard University are required to submit accurate and complete credentials and accurate and complete information requested by the University. Applicants who fail to do so shall be denied admission. Enrolled students who as applicants failed to submit accurate and complete credentials or accurate and complete information on their application for admission shall be subject to dismissal when the same is made known, regardless of classification."
Dean FAQ
Message from the Dean of the School of Social Work
Sandra Edmonds Crewe
At Howard University we have a long-standing commitment to excellence in graduate social work education.  The U.S. Bureau of Labor Statics (BLS) states that "Overall employment of social workers is projected to grow 16 percent from 2016 to 2026, much faster average for all occupations. Increased demand for healthcare and social services will drive demand for social workers…"  https://www.bls.gov/ooh/community-and-social-servce/social-workers.htm#tab-6   To meet this growing demand, social work faculty, researchers and scholars are needed.  Thank you in advance for your pursuit of a degree that will make a difference in the world.  Collectively, we have made many changes, however, there is more to be done. I look forward to you joining our family and adding to the cadre of doctoral alumni who are shaping lives. 
Read the message from the Dean
Sandra Edmonds Crewe                  
Dean and Professor of Social Work
All credentials must be sent to:
Howard University Graduate School 
Office of Graduate Recruitment and Admissions
2400 Sixth Street NW
Washington, D.C. 20059
Office of the Dean, Social Work
Sandra Crewe
Dean
Professor of Social Work
Center for Women, Gender and Global Leadership
Social Work Program
Soleman Abu-Bader
Professor
- Chanel Banks, Howard University'17, Master's of Social Work, White House Initiative on HBCUs Ambassador
The Howard University School of Social Work has not only taught me to affirm the strengths of the populations I serve, but to also affirm my own strength. Howard cultivated an environment that challenged my self-doubts and strengthened my skills in macro practice. My educational growth has been phenomenal, and I truly cherish Howard for affording me the opportunity to understand the powerful impact I bring to social work.